What Makes a Gerrard Project Exceptional?
Our aim is simple. We want you to be a fan of our work. Someone who believes that Gerrard homes, apartments, and developments are great places to live, work, and play. And here's how:
About Gerrard Companies
We don't really like to talk about ourselves. We like to let our work speak for us. We'd rather listen to you—how you hope to live a better, less stressful life.
So we'll be brief. Gerrard Companies is a family-owned business with expertise in real estate. We build and manage condominiums, offices, apartment communities, and residential neighborhoods. Our holdings span seven states: Wisconsin, Illinois, Minnesota, Iowa, South Dakota, Montana, and Wyoming. Our late father began his real estate career in 1954. Sadly, he passed away in April of 2017. His guidance has had a lasting impact and continues to guide us today.
At Gerrard Companies, we express our shared values in our business, values that stand the test of time. In our work, we:
Speak plainly, with open and honest intentions
Follow through on our commitments
Show honesty and integrity in all of our relationships
Focus on quality, innovation, and providing enduring value
Practice long-term thinking and planning
Manage our real estate holdings for the greater good of all parties
Involve ourselves in communities where we have real estate holdings
About Our Work
We build a variety of developments in communities that we like, because diversification is healthy.
Plus, it's more interesting for us. Projects we've completed include:
Over 3000 apartment units built and developed
Mixed-use developments
Condominiums
Single-family developments
Multi-family developments
Subdivisions
Affordable housing communities
Campus-convenient housing communities
55+ apartment communities
Offices, restaurants, retail
Awarded for our contribution to green and renewable energy
About Our Team
Peter Gerrard – President
Paul Gerrard – Vice President
Sarah Gerrard – Support Staff
Janna Erickson – Student Housing Manager
Scott Ackerson – Controller
Jane Benson – 55+ Housing Manager
Rich Phillips – Property Maintenance
Becky Franzen – Accounts Payable
About Peter and Paul Gerrard
Peter and Paul Gerrard are second generation leaders of their real estate development business. They have worked in real estate development, management, and construction for 30 years and co-founded Gerrard Corporation/Gerrard Companies. Both work seamlessly on site selection, syndication, financing, and pre-development in various markets throughout the Midwest.

Peter Gerrard
Peter Gerrard, President, of Gerrard Corporation/Gerrard Companies, is focused primarily on the development and construction management side of the business.

Paul Gerrard
Paul Gerrard, Vice President, directs the property management side of the real estate development business.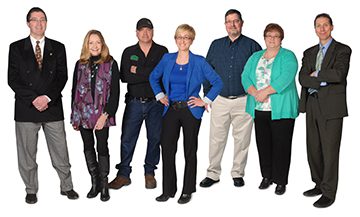 Gerrard Corporation/Gerrard Companies: Over A Half Century of Real Estate
The Gerrard family has been a force in real estate and development in the upper Midwest for almost 70 years. The tradition began with M. William Gerrard, when he founded his real estate brokerage firm in La Crosse, Wisconsin in 1954. His momentum and vision carried sons Mike, Peter, and Paul and daughter Nancy into real estate careers as well. They have formed residential and commercial development companies, retail brokerages, general construction, and property management firms.
Peter and Paul started Gerrard Corporation after Mike's sudden and tragic death in 1993. The company developed and currently manages apartment communities in seven states, including Wisconsin, Illinois, Minnesota, Iowa, South Dakota, Wyoming, and Montana. (Gerrard Corporation was honored with the USDA Rural Development "Developer of the Year" Award in the state of Montana.)
As second generation real estate brokers, developers, contractors, and managers, the Gerrard family has a solid history and knowledge of many communities, especially in Wisconsin and Minnesota. Gerrard Corporation has a history of going above and beyond what is required for a standard development, which has contributed to the long-term success of these properties, along with consistently high occupancy levels and tenant satisfaction.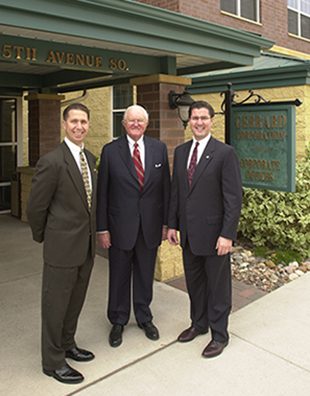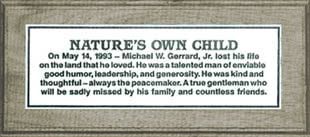 Nancy Hyde Gerrard (mother) commissioned this plaque to honor memories of Michael Gerrard, her oldest son.
We have a history of developing many different types of housing. Here's a brief sampling:
Student housing
 La Crosse
The Avenue
State Street
Vine Street
River Falls University Falls Apartments
Stevens Point
University Point Apartments.
Subdivisions
La Crosse – The Brick Works
Ellsworth – Crossing Meadows
Menominee – Dancing Oaks Twin Homes
Business parks and commercial development
Ellsworth – Crossing Meadows Business Park
Hudson – The Maxwell
La Crosse – Gateway Terrace commercial, Michael Heights commercial
Condominiums and Commercial Development
La Crosse, Gateway Terrace
Powell with 35,000 square-foot building that included restaurant, retail, and commercial
10 West, a commercial development that includes two regional restaurant chains located next to the University of Wisconsin
La Crosse, Eau Claire Prairie Heights
Rochester Metropolitan Marketplace apartment and boutique grocery store located in downtown Rochester
Market rate housing
Rochester
River Falls
Hudson
Workforce affordable housing
The Village of Ellsworth Wisconsin
River Falls Wisconsin
Baldwin Wisconsin
Hudson Wisconsin
La Crosse Wisconsin
Rice Lake Wisconsin
Superior Wisconsin
Eau Claire Wisconsin
Menominee Wisconsin
New Richmond Wisconsin
Village of North Hudson Wisconsin
Plover Wisconsin
Port Washington Wisconsin
Marshfield Wisconsin
Shell Lake Wisconsin
Arcadia Wisconsin
Galesville Wisconsin
Goodman Wisconsin
Owen Wisconsin
Galena Illinois
East Moline Illinois
Pepin Wisconsin
Cody Wyoming
Bozeman, Harden, Belgrade, Kalispell Montana
Sioux Falls, Madison South Dakota
Lime Springs, McGregor Iowa
We seek business partners whose business practices align well with ours. These firms have proven themselves on multiple projects, providing crucial expertise, superior customer service, and a team attitude. From contracting, architectural/engineering, and financial perspectives, these partnerships have been invaluable in our history of successful developments.
Contractors
We build a variety of developments in communities that we like, because diversification is healthy.
Plus, it's more interesting for us. We take extra care to assure that our projects fit the neighborhood and community into which they are built. Building contractors we work with include:
Wieser Brothers General Contractor – La Crescent, MN
Ellis Stone Construction – Stevens Point, WI
Paragon Associates – La Crosse, WI
Rotherham Construction – Bozeman, MT
Gerrard Development, LLC – La Crosse, WI
Architecture/Engineering
Long-term partnerships with regional architects and engineering firms has been instrumental in the optimal planning, design, and construction of our residential communities and commercial developments.
Dream Architecture – Burlington, WI
Yaggy Colby Associates – Rochester, MN
Schuts Foss Architects – Billings, MT
BKV Group – Minneapolis, MN
Armon Architecture – Rochester, MN
Cornerstone Architects – Tomah, WI
WSB Engineers – Rochester, MN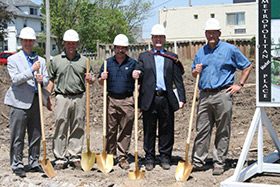 Lending/Equity
Gerrard Corporation owners are fully immersed in all aspects of each development—and, with their financing partners, handle long-term asset management, long-term accounting, and capital accounting.
U.S. Department of Agriculture – Rural Development
Department of Administration – Division of Housing
American Recovery & Reinvestment Act – 2009 Obama Administration
Wisconsin Housing & Economic Development Authority (WHEDA)

4% state tax credits, 9% credits, 4% bonds, capital magnet funds, and interest strip financing zeros

WESTCAP – Glenwood City
Boston Capital
Red Capital
Centerline Capital
Bank of America
Wells Fargo
Federal Home Loan Bank of Chicago
Altra Federal Credit Union
Bremer Bank – Menomonie
River Bank
Merchants Bank – Winona
CCF Bank Altoona Wisconsin

TIF financing, land-grant city of River Falls

City of superior land grant, CDBG, TIF financing

TIF financing to Stevens Point

Reinhart Companies
People's Food Co-op, La Crosse/Rochester
Wieser Brothers General Contractor
NSP/Eloigne Company
Bonneville Mortgage
Fannie Mae – WI, MT, UT
Hudson Hospital
Shopko/Pamida
City of La Crosse (WI)
City of Menomonie (WI)
City of Superior (WI) – Housing Authority
City of Rochester (MN)
Land-grant TIF financing city of Hudson

West Central community action agency Inc. grant participant. Multiple projects

City of New Richmond, TIF financing, land-grant, CDBG, site prep and demolition

Land-grant, and gap financing city of Eau Claire

City of Rice Lake (WI) – Housing Authority
City of Stevens Point (WI)
City of River Falls (WI)
Village of Ellsworth (WI)
Montana Board of Housing
Iowa Board of Housing
Illinois Board of Housing
Wyoming Board of Housing
South Dakota Board of Housing
Dunn County Board
University of WI – La Crosse
Michael & Assoc. – Boston